Dashboard: 2.8.5
Firmware: 3.5.10
OS: MacOS Sierra (10.12.2), Windows 10 Pro (Anniversary Ed.)
(Out of warranty)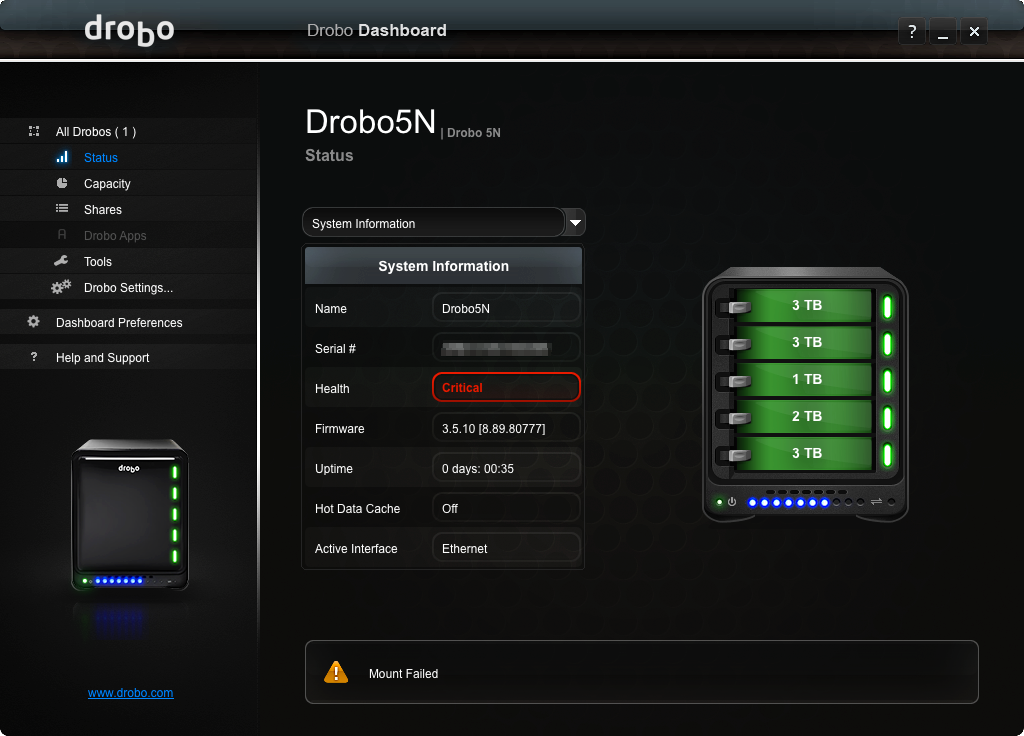 As you can see via the screenshot, Dashboard still sees the device. The drives are still good, but none of the 5n Shares found (the 5N is not even visible on the network). And the Health is marked as [color=#FF0000]Critical[/color].
What led to this? The activity lights had been on for hours. I could not determine what was causing the activity. Access and responsiveness of the Drobo was slow. Even ssh'ing into the command line, running "top" and "ps -ef" did not reveal any extreme activity, but response to commands was unusually slow. I finally used the Dashboard to restart the device. When it came back up, it was in this condition, so I used the Dashboard to shutdown the device down completely. When I powered back up, it was still in this condition.
From other threads, this means that the filesystem is corrupted and I need to Repair it. But with so many dire warnings about using Repair (in those threads). I wanted to see if anyone had any other comments about my situation.
In particular, the activity light was running for hours and I could not see anything that should have been accessing it. I used Dashboard to restart it, thinking that that would be a "safe" way to end the activity. I'd done something similar, several months ago, and it solved the problem. Using Dashboard to restart or shutdown the Drobo while it is busy is not necessarily safe?
Assuming Repair would work well, but some files are lost, would it most likely be those files which were actively being written? Or could random parts of the directory structure be damaged and even old files might be lost? Or, there is no telling what might happen?
I'm just looking for some peace of mind (it certainly isn't very peaceful at the moment).